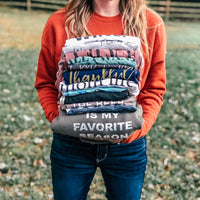 Designed with you in mind | Designed to give back
We are Sweet Olive Co., a sweet and small but passionate company specializing in everything graphic. 
Our main goal is to design and create products that you love. We want you to enjoy our products as much as we've enjoyed designing them. 
We have created our designs with the typical everyday woman in mind. Whether you are heading to the gym, or grocery store, with a baby on the hip or dog leash in hand—these tees are for everyday wear for the everyday woman. 
We believe in contagious kindness and commit ourselves to spreading kindness the best way we know how—by being creative. We hope to give back with our graphics to support organizations that we hold close to our hearts and we hope you do too. To pay it forward with us, check out our Give Back Collection here or shop all of our collections here.